E quais os melhores discos lançados em 2019? As listas andam pipocando e reunimos algumas anunciadas pelas principais publicações pelo mundo.
O ano de 2019 foi um ano complicado. Confuso politicamente, com retrocessos em diversos países, com uma direita autoritária flertando com fascismo e fundamentalismo religioso. Houve também reações em diversos desses países, com revoltas populares e derramamento de sangue. O mundo se mostrou em ebulição, por diversos fatores.
No universo da música pode parecer que não tivemos um ano muito interessante, já que poucos trabalhos chamaram atenção de forma ampla. Assim como toda a questão política, porém, esses são sinais dos tempos. Se nada explodiu e se tornou unanimidade, talvez esse seja o caminho que estejamos seguindo na contemporaneidade, com muita música sendo produzida, muitos lançamentos e uma dispersão de bons trabalhos em várias direções e estilos.
Veja também:
– Que música ouvimos nas rádios brasileiras?
– Os mais ouvidos na década e em 2019 no Brasil e no mundo pelo Spotify.
– Os novos videoclipes da atual música brasileira para fechar 2019.
Dá para perceber também, que por mais que alguns insistam no fim ou decadência do formato álbum, e na ascendência total do modo singles, os álbuns continuam firmes e fortes, sendo lançados e aclamados, independente do suporte. Um ano que, se nada brilhou isoladamente e se destacou muito mais que outros, vários bons lançamentos chegaram a quem buscou novidades, seja de artistas mais novos ou veteranos.
Aqui reunimos as listas de melhores álbuns de 2019 por várias publicações pelo mundo.
NME (Inglaterra)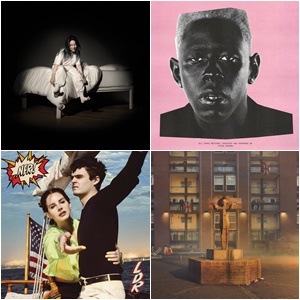 1. Billie Eilish – WHEN WE ALL FALL ASLEEP, WHERE DO WE GO?
2. Tyler, the Creator – IGOR
3. Lana Del Rey – Norman Fucking Rockwell!
4. slowthai – Nothing Great About Britain
5. Little Simz – GREY Area
6. FKA twigs – MAGDALENE
7. Fontaines D.C. – Dogrel
8. Michael Kiwanuka – Kiwanuka
9. Weyes Blood – Titanic Rising
10. Clairo – Immunity
11. Bring Me The Horizon – amo
12. Vampire Weekend – Father of the Bride
13. Slipknot – We Are Not Your Kind
14. Solange – When I Get Home
15. Foals – Everything Not Saved Will Be Lost (Part 1)
16. Lizzo – Cuz I Love You
17. Dave – Psychodrama
18. The Chemical Brothers – No Geography
19. Amyl & The Sniffers – Amyl and The Sniffers
20. Post Malone – Hollywood's Bleeding
(veja a lista completa da NME)
MOJO MAGAZINE

(Inglaterra)
1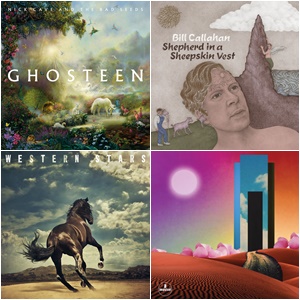 . Nick Cave and the Bad Seeds – Ghosteen
2. Bill Callahan – Shepherd in a Sheepskin Vest
3. Bruce Springsteen – Western Stars
4. The Comet is Coming – Trust in the Lifeforce of the Deep Mystery
5. Aldous Harding – Designer
6. Fontaines D.C. – Dogrel
7. Lana Del Rey – Norman Fucking Rockwell!
8. Black Midi – Schlagenheim
9. Purple Mountains – Purple Mountains
10. Lee 'Scratch' Perry – Rainford.
11. Brittany Howard – Jaime
12. Jenny Lewis – On th eLines
13. Weyes Blood – Titanic Rising
14. Fat White Family – Serfs Up!
15. Tinariwen – Amadjar
16. Amyl & The Sniffers – Amyl & The Snifers
17. Solange – When I Get Home
18. P.P. Arnold – The New Adventures of P.P. Arnold
19. Cate Le Bon – Reward
20. 75 Dollar Bill – I Was Real
(veja a lista completa da Mojo)
UNCUT

(Inglaterra)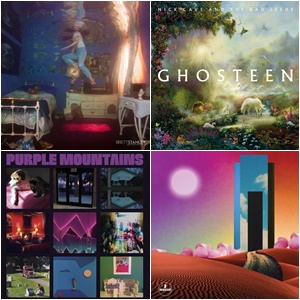 01. Weyes Blood – Titanic Rising
02. Nick Cave & the Bad Seeds : Ghosteen
03. Purple Mountains : Purple Mountains
04. The Comet is comming : Trust in the lifeforce of the deep mistery
05. Lana Del Rey : Norman Fucking Rockwell
06. Joan Shelley : Like the rivers loves the sea
07. Bruce Springsteen : Western Stars
08. Bill Callahan : Shepherd in a sheepskin vest
09. Big Thief : Ufof
10. Wilco : Ode to joy
11. Cate Le Bon : Reward
12. Julia Jacklin : Crushing
13. Oh Sees : Face Stabbler
14. Richard Dawson : 2020
15. Bon Iver : I,I
16. Sharon Van Etten : Remind me tomorrow
17. Modern Nature : How to live
18. Jenny Lewis : On the line
19. Peter Perrett : Humanworld
20. Brittany Howard : Jaime
(veja a lista completa da Uncut)
PITCHFORK

(EUA)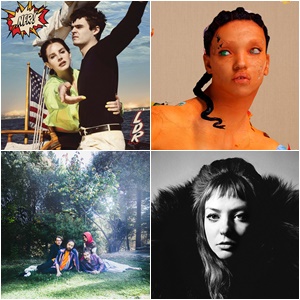 1. Lana Del Rey: Norman Fucking Rockwell!
2. FKA twigs: MAGDALENE
3. Big Thief: U.F.O.F.
4. Angel Olsen: All Mirrors
5. Solange: When I Get Home
6. Bad Bunny: X 100PRE
7. Helado Negro: This Is How You Smile
8. Fennesz: Agora
9. Weyes Blood: Titanic Rising
10. Purple Mountains: Purple Mountains
11. Jamila Woods: LEGACY! LEGACY!
12. Brittany Howard: Jaime
13. Big Thief: Two Hands
14. Beyoncé: Homecoming: The Live Album
15. Bill Callahan: Shepherd in a Sheepskin Vest
16. Bon Iver: i,i
17. (Sandy) Alex G: House of Sugar
18. Clairo: Immunity
19. Jessica Pratt: Quiet Signs
20. Jenny Hval: The Practice of Love
(veja a lista completa do Pitchfork)
MAGNET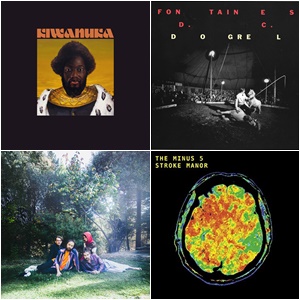 1) Michael Kiwanuka #Kiwanuka (Interscope Records)
2) Fontaines D.C. #Dogrel (Partisan Records)
3) Big Thief #UFOF; #TwoHands (4AD)
4) The Minus 5 #StrokeManor (Yep Roc Records)
5) Weyes Blood #TitanicRising (Sub Pop Records)
6) Angel Olsen #AllMirrors (Jagjaguwar)
7) Guided By Voices #ZeppelinOverChina; #WarpAndWoof; #SweatingThePlague (#GBVInc)
8) MANNEQUIN PUSSY #Patience (Epitaph Records)
9) The National #IAmEasyToFind (4AD)
10) Karen O & Danger Mouse #LuxPrima (BMG)
11) Nick Cave & The Bad Seeds #Ghosteen (#BadSeed)
12) Charly Bliss #YoungEnough (Barsuk Records)
13) Brittany Howard #Jaime (ATO Records)
14) Purple Mountains #PurpleMountains (Drag City Records)
15) The Highwomen #TheHighwomen (Elektra Records)
16) °Pernice Brothers (Joe Pernice) #SpreadTheFeeling (#Ashmont)
17) Priests #TheSeductionOfKansas (Sister Polygon Records)
18) Deerhunter #WhyHasntEverythingAlreadyDisappeared (4AD)
19) #Nivhek #AfterItsOwnDeathWalkingInASpiralTowardsTheHouse (W.25TH/Superior Viaduct)
20) Hiss Golden Messenger #TermsOfSurrender (Merge Records)
21) Sharon Van Etten #RemindMeTomorrow (Jagjaguwar)
22) Big Search #SlowFascination (30th Century Records)
23) Swans #LeavingMeaning (Young God Records)
24) Vampire Weekend #FatherOfTheBride (#SpringSnow/Columbia Records)
25) PUP #MorbidStuff (Little Dipper/Rise Records)
(veja a lista completa da Magnet)
ROUGH TRADE (EUA e Inglaterra)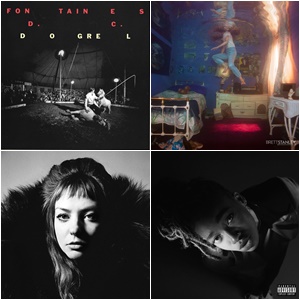 Dogrel – Fontaines D.C.
Titanic Rising – Weyes Blood
All Mirrors – Angel Olsen
Grey Area – Little Simz
Schlagenheim – black midi
Eton Alive – Sleaford Mods
Reward – Cate Le Bon
The Age of Immunology – Vanishing Twin
Ex:Re – Ex:Re
Trust In The Lifeforce Of The Deep Mystery – The Comet is Coming
Hyperspace – Beck
Nothing Great About Britain – Slowthai
Free – Iggy Pop
Mantra Moderne – Kit Sebastian
The Imperial – The Delines
Jinx – Crumb
Two Hands – Big Thief
Boat – Pip Blom
leaving meaning. – Swans
Any Human Friend – Marika Hackman
(veja a lista completa da Rough Trade)
STEREOGUM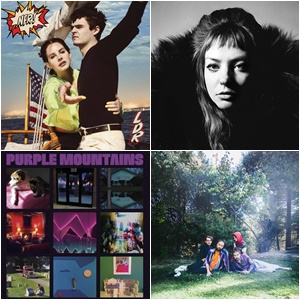 1 Lana Del Rey – Norman Fucking Rockwell! (Polydor / Interscope)
2 Angel Olsen – All Mirrors (Jagjaguwar)
3 Purple Mountains – Purple Mountains (Drag City)
4 Big Thief – U.F.O.F. (4AD)
5 Vampire Weekend – Father Of The Bride (Columbia)
6 (Sandy) Alex G – House Of Sugar (Domino)
7 Nick Cave And The Bad Seeds – Ghosteen (Ghosteen Ltd)
8 Great Grandpa – Four Of Arrows (Double Double Whammy)
9 billy woods & Kenny Segal – Hiding Places (Backwoodz Studioz)
10 Fontaines D.C. – Dogrel (Partisan)
11 Black Midi – Schlagenheim (Rough Trade)
12 Charly Bliss – Young Enough (Barsuk)
13 Holly Herndon – PROTO (4AD)
14 Mannequin Pussy – Patience (Epitaph)
15 FKA Twigs – MAGDALENE (Young Turks)
16 Jenny Hval – The Practice Of Love (Sacred Bones)
17 Weyes Blood – Titanic Rising (Sub Pop)
18 Denzel Curry – ZUU (Loma Vista)
19 Jessica Pratt – Quiet Signs (Mexican Summer)
20 Polo G – Die A Legend (Columbia)
(veja a lista completa da Stereogum)
Bill's Indie Basement
1. Purple Mountains – Purple Mountains
2. Aldous Harding – Designer
3. Robert Forster – Inferno
4. Weyes Blood – Titanic Rising
5. Vanishing Twin – Age of Immunology
6. Cate Le Bon – Reward
7. Ty Segall – First Taste
8. Jeanines – Jeanines
9. Mick Trouble – …Here's the Mick Trouble LP
10. Modern Nature – How to Live
11. PAT (Jacolby Satterwhite & Nick Weiss) – Love Will Find a Way Home
12. The Hecks – My Star
13. Snapped Ankles – Stunning Luxury
14. Moon Duo – Stars Are the Light
15. Pernice Brothers – Spread the Feeling
16. Ladytron – Ladytron
17. Le SuperHomard – Meadow Lane Park
18. Lloyd Cole – Guesswork
19. Sleaford Mods – Eton Alive
20. International Teachers of Pop – International Teachers of Pop
(veja a lista completa da Bill's Indie Basement)
Les Inrocks'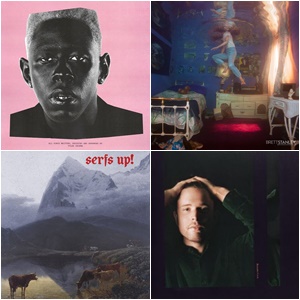 1. Tyler, the Creator – IGOR
2. Weyes Blood – Titanic Rising
3. Fat White Family – Serfs Up!
4. James Blake – Assume Form
5. Fontaines D.C. – Dogrel
6. Philippe Katerine – Confessions
7. Denzel Curry – ZUU
8. Lana Del Rey – Norman Fucking Rockwell!
9. Alex Cameron – Miami Memory
10. Hubert Lenoir – Darlène
11. Purple Mountains – Purple Mountains
12. FKA twigs – MAGDALENE
13. Bon Iver – i,i
14. Battles – Juice B Crypts
15. Cassius – Dreems
16. Iggy Pop – Free
17. Ezra Furman – Twelve Nudes
18. Nick Cave & The Bad Seeds – Ghosteen
19. Holly Herndon – PROTO
20. Kanye West – JESUS IS KING
(veja a lista completa da Les Inrocks')
BBC Radio 6 Music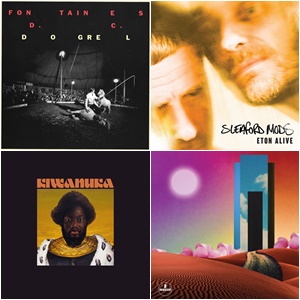 1. Fontaines D.C. – Dogrel
2. Sleaford Mods – Eton Alive
3. Michael Kiwanuka – Kiwanuka
4. The Comet Is Coming – Trust in the Lifeforce of the Deep Mystery
5. Little Simz – GREY Area
6. Warmdüscher – Tainted Lunch
7. Kate Tempest – The Book of Traps and Lessons
8. Brittany Howard – Jaime
9. The Specials – Encore
10. Nick Cave & The Bad Seeds – Ghosteen
(veja a lista completa da BBC Radio)
Louder Than War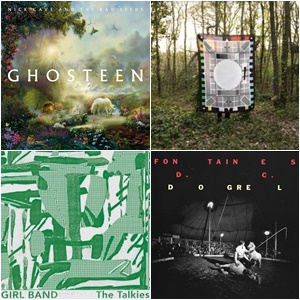 1. Nick Cave & The Bad Seeds – Ghosteen
2. JOHN – Out Here On The Fringes
3. Girl Band – The Talkies
4. Fontaines D.C. – Dogrel
5. Jemma Freeman & The Cosmic Something – Oh Really, What's that Then?
6. Sunn O))) – Life Metal
7. The Membranes – What Nature Gives… Nature Takes Away
8. Girls In Synthesis – Pre / Post: A Collection 2016 – 2018
9. The Specials – Encore
10. slowthai – Nothing Great About Britain
11. The National – I Am Easy to Find
12. Miss June – Bad Luck Party
13. Blue Orchids – The Magical Record of Blue Orchids
14. Sharon Van Etten – Remind Me Tomorrow
15. Beth Gibbons & the Polish National Radio Symphony Orchestra – Henryk Górecki: Symphony No. 3 (Symphony of Sorrowful Songs)
16. Doctors of Madness – Dark Times
17. Amyl & The Sniffers – Amyl and The Sniffers
18. Deux Furieuses – My War is Your War
19. black midi – schlagenheim
20. The Murder Capital – When I Have Fears
(veja a lista completa da Louder Than War)
Consequence of Sound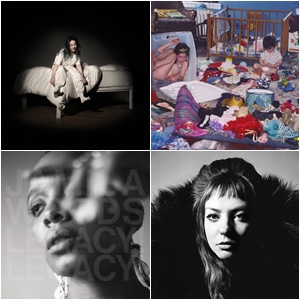 1. Billie Eilish – WHEN WE ALL FALL ASLEEP, WHERE DO WE GO?
2. Sharon Van Etten – Remind Me Tomorrow
3. Jamila Woods – LEGACY! LEGACY!
4. Angel Olsen – All Mirrors
5. Ariana Grande – thank u, next
6. Tyler, the Creator – IGOR
7. Lizzo – Cuz I Love You
8. Vampire Weekend – Father of the Bride
9. Lana Del Rey – Norman Fucking Rockwell!
10. Tool – Fear Inoculum
11. Charly Bliss – Young Enough
12. Freddie Gibbs & Madlib – Bandana
13. Big Thief – U.F.O.F.
14. PUP – Morbid Stuff
15. King Princess – Cheap Queen
16. Faye Webster – Atlanta Millionaires Club
17. Bon Iver – i,i
18. Solange – When I Get Home
19. Brittany Howard – Jaime
20. Nick Cave & The Bad Seeds – Ghosteen
(veja a lista completa da Consequence of Sound)
NPR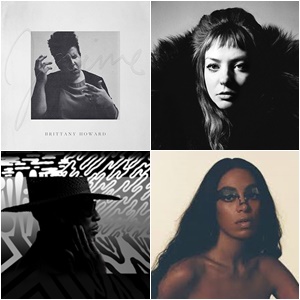 1. Brittany Howard – Jaime
2. Angel Olsen – All Mirrors
3. Raphael Saadiq – Jimmy Lee
4. Solange – When I Get Home
5. Aldous Harding – Designer
6. Sharon Van Etten – Remind Me Tomorrow
7. Caroline Shaw / Attacca Quartet – Orange
8. Lankum – The Livelong Day
9. Billy Woods & Kenny Segal – Hiding Places
10. Jenny Hval – The Practice Of Love
11. Vagabon – Vagabon
12. Ari Lennox – Shea Butter Baby
13. Our Native Daughters – Songs Of Our Native Daughters
14. Weyes Blood – Titanic Rising
15. Christian Scott aTunde Adjuah – Ancestral Recall
16. Burna Boy – African Giant
17. Holly Herndon – PROTO
18. iLe – Almadura
19. Lana Del Rey – Norman Fucking Rockwell
20. Sault – 5
(veja a lista completa da NPR)
ROLLING STONE

(Estados Unidos)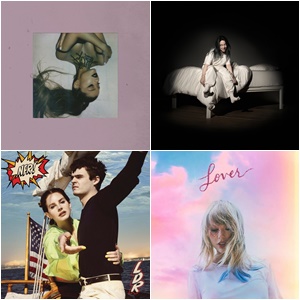 1. Ariana Grande – thank u, next
2. Billie Eilish – WHEN WE ALL FALL ASLEEP, WHERE DO WE GO?
3. Lana Del Rey – Norman Fucking Rockwell!
4. Taylor Swift – Lover
5. Bad Bunny – X 100PRE
6. Lizzo – Cuz I Love You
7. Vampire Weekend – Father of the Bride
8. Miranda Lambert – Wildcard
9. DaBaby – Baby On Baby
10. The Highwomen – The Highwomen
11. Nick Cave & The Bad Seeds – Ghosteen
12. Tyler, the Creator – IGOR
13. Jenny Lewis – On the Line
14. Angel Olsen – All Mirrors
15. Brittany Howard – Jaime
16. Sturgill Simpson – Sound & Fury
17. Big Thief – Two Hands
18. Young Thug – So Much Fun
19. 100 gecs – 1000 gecs
20. Polo G – Die a Legend
(veja a lista completa da Rolling Stone)
GORILLA VS. BEAR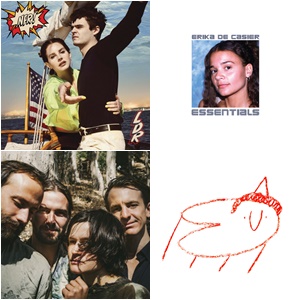 01) Lana Del Rey | Norman Fucking Rockwell!
02) Erika De Casier | Essentials
03) Big Thief | U.F.O.F. / Two Hands
04) Men I Trust | Oncle Jazz
05) Bea1991 | Brand New Adult
06) Chromatics | Closer To Grey
07) Billie Eilish | When We All Fall Asleep, Where Do We Go?
08) Yves Jarvis | The Same But By Different Means
09) Aldous Harding | Designer
10) 박혜진 Park Hye Jin | If U Want It
11) Freddie Gibbs + Madlib | Bandana
12) Weyes Blood | Titanic Rising
13) Jpegmafia | All My Heroes Are Cornballs
14) Faye Webster | Atlanta Millionaires Club
15) Malibu | One Life
16) Julia Jacklin | Crushing
17) Moodymann | Sinner
18) Fka Twigs | Magdalene
19) Nilüfer Yanya | Miss Universe
20) Caroline Polachek | Pang
(veja a lista completa da Gorilla vs Bear)
PASTE MAGAZINE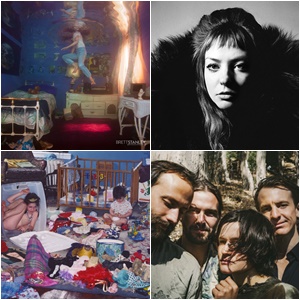 1. Weyes Blood: Titanic Rising
2. Angel Olsen: All Mirrors
3. Sharon Van Etten: Remind Me Tomorrow
4. Big Thief: Two Hands
5. FKA twigs: MAGDALENE
6. Brittany Howard: Jaime
7. Carly Rae Jepsen: Dedicated
8. Julia Jacklin: Crushing
9. Lizzo: Cuz I Love You
10. Faye Webster: Atlanta Millionaires Club
11. black midi: Schlagenheim
12. Jenny Lewis: On The Line
13. Kevin Morby: Oh My God
14. Fontaines D.C.: Dogrel
15. Nick Cave and The Bad Seeds: Ghosteen
16. Purple Mountains: Purple Mountains
17. Tyler, The Creator: IGOR
18. Better Oblivion Community Center: Better Oblivion Community Center
19. Lana Del Rey: Norman Fucking Rockwell!
20. Vampire Weekend: Father of the Bride
(veja a lista completa do Pates Magazine)
TIME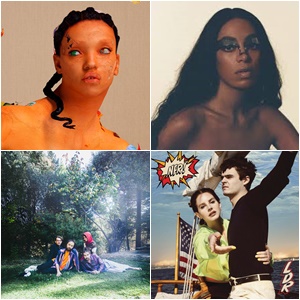 1. FKA twigs – MAGDALENE
2. Solange – When I Get Home
3. Big Thief – U.F.O.F.
4. Lana Del Rey – Norman Fucking Rockwell!
5. Billy Woods & Kenny Segal – Hiding Places
6. Billie Eilish – WHEN WE ALL FALL ASLEEP, WHERE DO WE GO?
7. Bon Iver – i,i
8. King Princess – Cheap Queen
9. Joe Armon-Jones – Turn to Clear View
10. James Blake – Assume Form
(veja a lista completa da Time)
The Associated Press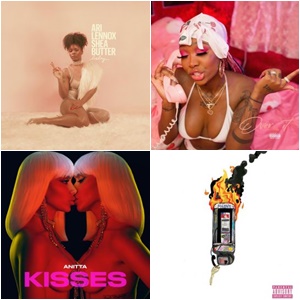 1. Ari Lennox – Shea Butter Baby
2. Summer Walker – Over It
3. Anitta – Kisses
4. Buku Abi – Don't Call Me
5. Rapsody – Eve
6. Yola – Walk Through Fire
7. Ariana Grande – thank u, next
8. Khalid – Free Spirit
9. Pink Sweat$ – Volume 2
10. James Blake – Assume Form
(veja a lista completa da The Associated Press)
DOUBLE J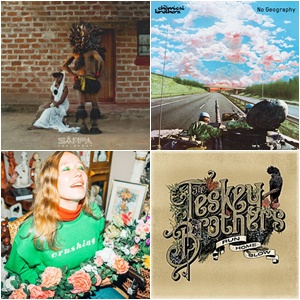 1. Sampa The Great – The Return
2. The Chemical Brothers – No Geography
3. Julia Jacklin – Crushing
4. The Teskey Brothers – Run Home Slow
5. Lana Del Rey – Norman Fucking Rockwell!
6. James Blake – Assume Form
7. Lizzo – Cuz I Love You
8. Nick Cave & The Bad Seeds – Ghosteen
9. Big Thief – U.F.O.F.
10. Sharon Van Etten – Remind Me Tomorrow
11. Aldous Harding – Designer
12. Angel Olsen – All Mirrors
13. King Gizzard & the Lizard Wizard – Fishing For Fishies
14. Underworld – DRIFT: Series 1
15. Solange – When I Get Home
16. Michael Kiwanuka – KIWANUKA
17. Amyl & the Sniffers – Amyl & the Sniffers
18. Bon Iver – i,i
19. FKA Twigs – Magdalene
20. The National – I Am Easy To Find
(veja a lista completa da Double J)
MONDO SONORO (World music)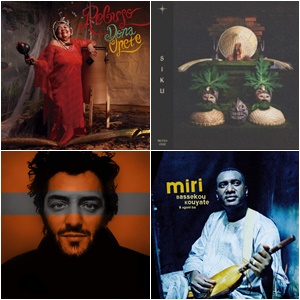 1.- Dona Onete – "Rebujo" (Mais Um Discos)
2.- Nicola Cruz – "Siku" (ZZK Records)
3.- Rachid Taha – "Je Suis African" (Naïve)
4.- Bassekou Kouyaté & Ngoni Ba – "Miri" (Outhere Records)
5.- Perotá Chingó – "Muta" (Autoeditado)
6.- Tapan & Generation Taragalte – "Atlas" (Soundway Records)
7.- Tiken Jah Fakoly – "Le monde est chaud" (Wrasse Records)
8.- Acid Arab – "Jdid" (Crammed)
9.- Boban Markovic Orkestar – "Mrak" (PGP-RTS)
10.- Minyo Crusaders – "Echoes Of Japan" (Mais Um Discos)
(veja a lista completa do Mondo Sonoro)
COMPLEX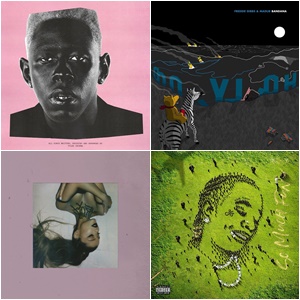 1. Tyler, the Creator – IGOR
2. Freddie Gibbs & Madlib – Bandana
3. Ariana Grande – thank u, next
4. Young Thug – So Much Fun
5. DaBaby – Kirk
6. Billie Eilish – WHEN WE ALL FALL ASLEEP, WHERE DO WE GO?
7. Young Nudy & Pi'erre Bourne – Sli'merre
8. Mustard – Perfect Ten
9. Danny Brown – uknowhatimsayin¿
10. Schoolboy Q – CrasH Talk
11. DaBaby – Baby On Baby
12. 2 Chainz – Rap or Go to the League
13. Burna Boy – African Giant
14. Baby Keem – DIE FOR MY BITCH
15. Solange – When I Get Home
16. Benny The Butcher – The Plugs I Met
17. Toro y Moi – Outer Peace
18. Lana Del Rey – Norman Fucking Rockwell!
19. Denzel Curry – ZUU
20. Little Simz – GREY Area
(veja a lista completa da Complex)
Los mejores discos de world music internacional de 2019